---
We are open regular hours Monday 9:00am to 6:00pm,
Tuesday through Saturday 9:00am to 5:00pm.
We are requesting appointments to our First Communion Clothing Boutique for the safety of our guests. No more than three (3) people can accompany the child during their clothing appointment. Simply call 1-800-586-1951 for an appointment. Please specify if it is for a Communion Dress or Suit.
---
Father's Day Items
Touchless Holy Water Fonts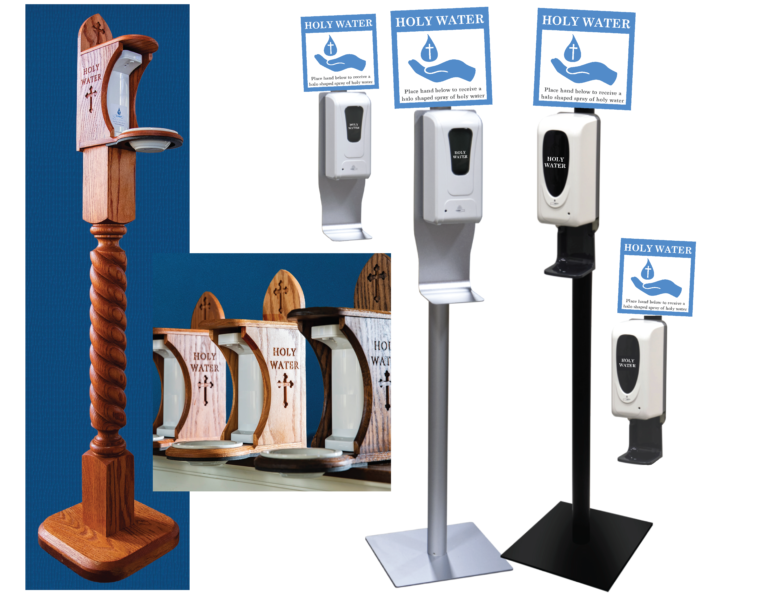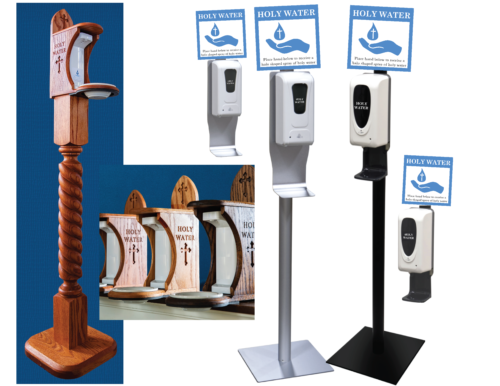 See our three offerings below:
First Communion and Confirmation Face Masks
Reasonably Priced! Quality Look! No Minimums
Year of Saint Joseph Items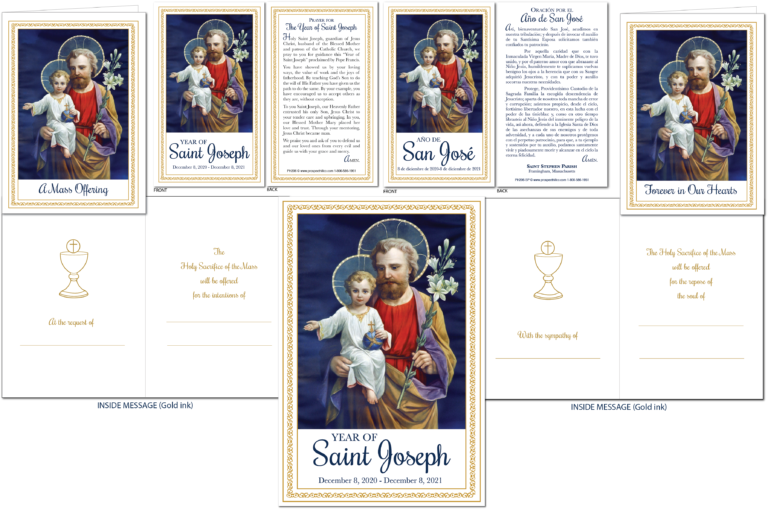 See all our face masks, including customized masks!
---
COVID-19 Products for your Churches, Schools and Businesses
---
Victory Professional Cordless Electrostatic Handheld Sprayer
SAVE TIME, LABOR AND MONEY BETTER COVERAGE – USES LESS FLUID
Perfect for Church, Business and School Facilities. Coats up to 2,800 square feet on a single tank of fluid. Disinfects against human coronavirus in just 1 minute and all other viruses in 2 minutes!

Delivery in FIVE Weeks from date of order 50% Deposit Required, NO Cancellations Accepted.
---
Hand Sanitizing Stations
Introducing our "Touch-Free" Hand Sanitizing Stations. No Proprietary Refill Cartridges or Bags Use Whatever Sanitizer You Already Have.
---
Botanical Disinfectant Solution
Capable of cleaning, sanitizing, disinfecting and deodorizing in a single step, Bioesque's Botanical Disinfectant Solution is the natural solution for a wide range of cleaning challenges. This innovative product: Features the patented Thymox technology and a botanically derived active ingredient.

Available in multiple sizes, it is perfect for use on an impressive array of surfaces and requires no special precautions or equipment to use. After spraying, simply allow the product to sit on the surface for the appropriate period of time before wiping it down, if desired. This versatile germicide product is suitable for health care, church, school, residential, commercial and industrial settings.
---
---
Our Products
---
Click on any image to see the full category of products.
Featured Products
Custom and Standard Memorial Cards Now Available for Order Online
We are excited to bring our large collection of standard and custom memorial cards, bookmarks and programs to our website! You can now easily order both your custom and standard cards here with just the few clicks of a button. You card will never be charged until your order is ready to be shipped and our graphic designer will always send you a proof. Please see a few samples below and click the green button for our full selection.


Custom Funeral / Memorial Service Programs