Please click on the images below to see details on the associated products and categories.
Our Products
---
Welcome Back Lawn Signs
and Banners
Let them know you are open for worship and welcome them back with open arms!
Available for immediate Delivery!
Signs measures 18″ x 24″ printed in full color on both sides, water resistant coroplast. Banners are 7′ x 2′.
Custom ordering can be done by email to tmcmullen@prospecthillco.com or by phone 1-800-586-1951.
NO MINIMUMS
---
Disinfect Your Church / Office / Business
URGENT
Order Now
Victory Professional Cordless Electrostatic Handheld Sprayer
SAVE TIME, LABOR AND MONEY BETTER COVERAGE – USES LESS FLUID
Perfect for Church, Business and School Facilities. Coats up to 2,800 square feet on a single tank of fluid. Disinfects against human coronavirus in just 1 minute and all other viruses in 2 minutes!

Delivery in FIVE Weeks from date of order 50% Deposit Required, NO Cancellations Accepted.
Botanical Disinfectant Solution
Capable of cleaning, sanitizing, disinfecting and deodorizing in a single step, Bioesque's Botanical Disinfectant Solution is the natural solution for a wide range of cleaning challenges. This innovative product: Features the patented Thymox technology and a botanically derived active ingredient.

Available in multiple sizes, it is perfect for use on an impressive array of surfaces and requires no special precautions or equipment to use. After spraying, simply allow the product to sit on the surface for the appropriate period of time before wiping it down, if desired. This versatile germicide product is suitable for health care, church, school, residential, commercial and industrial settings.
---
COVID-19 Protocol Church Signage
Signs are 9″ x 12″, printed on white durable cover stock and laminated. Great for interior or exterior. Signs are $2.50 each and available for immediate delivery.
Laminated Floor Decals
Using Masking Tape or Yellow/Black Unstable Stickers to keep your Parishioners at a safe distance? Order our Professional, Durable, Non-Slip Laminated Floor Decals specifically designed for your church. SHIPS June 1, 2020. Available for both floors and carpets.
• Strong adhesive, yet removes anytime easily
• Laminated to protect imprint
• Peel, Stick, Remove, Anywhere-Anytime
• Muted Gray Ink to accent any color scheme
---
Offertory and Collection Solutions
Are you replacing your Collection Baskets because of the New COVID-19 suggestions?
We have worked with one of our vendors offering a three week turn-around time for Quality, Hand Crafted Solid Wood Offering Boxes. All offering boxes are shipped by freight truck. These boxes are available in a variety of finish colors and come standard with lock. We have discounted the prices for our churches. We are also recommending these wicker standing collection baskets that can be placed in a central place in your church and "no hands" have to touch the basket. The days of "passing the basket" might be numbered. Even the baskets with long handles, parishioners will still touch the basket when they put in their envelopes.
---
100% Cotton Face Masks
Perfect for Clergy, Religious and Parishioners. Black in color with Hand Embroidered Gold Cross.
*Prospect Hill Company makes no guarantees or warranties, express or implied, that the mask prevents infection or the transmission of viruses or diseases.
---
Inexpensive Items for Parishioners during Covid-19
This great inexpensive card can be offered to parishioners and students as they return to school, or include in summer mailings. This Holy Water Bottle can can filled and offered to parishioners while the fonts and dispensers are being removed from churches.
---
Appreciation Lawn Signs
In this time of social distancing, yard signs are a great way to recognize anyone you would like to show your appreciation to. We guarantee this simple gesture will mean the world to them!
We can also do any custom design you may want. Pricing drops dramatically when ordering 25 pieces or more. See our discounted pricing under Printing Services/Political Printing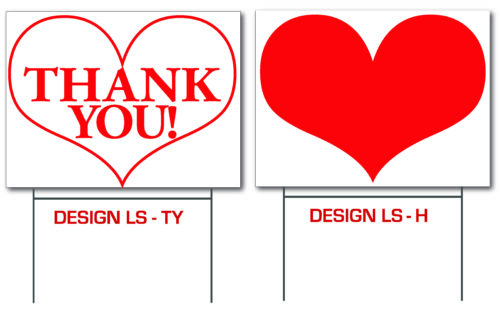 1 for = $12.95
2 for = $24.95
3 for = $36.00
4 for = $48.00
5 for = $60.00
6 for = $72.00
PICK UP at store or we can ship for an additional charge. Lawn Sign measure 18" x 24" printed in red on both sides, water resistant coroplast. Great idea for anyone you would like to reach out to and show how much you appreciate their service in these difficult times. Don't leave the house or office. Ordering can be done by email to tmcmullen@prospecthillco.com or call 1-800-586-1951.
---
Inexpensive Parish Gifts for Father's Day
Most Popular Communion Gifts
Featured Products
Custom and Standard Memorial Cards Now Available for Order Online
We are excited to bring our large collection of standard and custom memorial cards, bookmarks and programs to our website! You can now easily order both your custom and standard cards here with just the few clicks of a button. You card will never be charged until your order is ready to be shipped and our graphic designer will always send you a proof. Please see a few samples below and click the green button for our full selection.


Custom Funeral / Memorial Service Programs