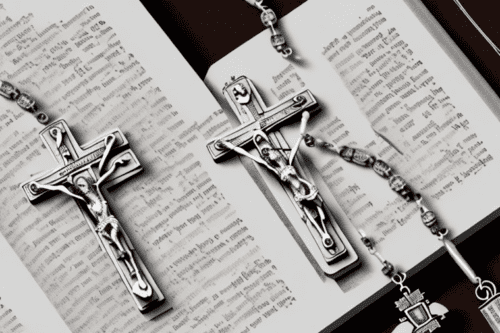 Father's Day is an exceptional occasion, a heartfelt opportunity to honor and appreciate the remarkable fathers who tirelessly dedicate themselves to their families. As a Catholic, you have a unique chance to infuse this day with the beauty of your faith, creating a truly meaningful celebration. To make this Father's Day even more special, consider gifting your dad something that aligns with his Catholic beliefs. From heartfelt prayers and blessings to carefully curated gifts, we've curated a list of the 10 best Catholic Father's Day gifts that will undoubtedly touch his heart. Discover the perfect token of love and gratitude for your Catholic dad and let this Father's Day be a cherished celebration of his faith and devotion.
Visor Clip Motorist Prayer
Driving can often be a challenging and stressful experience, filled with traffic congestion, frustrations, and unexpected hurdles. Maintaining focus and staying calm on the road is crucial, and what better way to achieve this than by having a constant reminder to offer prayers? The Visor Clip motorist prayer serves as both a beautiful car decoration and a powerful tool to help you stay centered and connected to your faith.
The prayer engraved on the clip holds significant spiritual weight, invoking the protection and guidance of the St. Christopher. As you navigate the roads, you can recite this prayer and experience the serenity and reassurance that stems from knowing you are not alone on your journey.
Moreover, the Visor Clip motorist prayer makes an excellent gift for any Catholic dad who spends considerable time behind the wheel. Whether he's a busy executive, a long-haul trucker, or a daily commuter, this clip will serve as a constant reminder of his faith, helping him maintain focus and serenity while driving.
Father's Day Laminated Bookmark with Pen attached
If your father is an avid reader, prepare to impress him with this remarkable gift. The Father's Day Laminated Bookmark with an attached pen is an exquisite item that will undoubtedly capture his attention. This thoughtful gift not only allows him to mark his favorite passages and take notes effortlessly but also features an inspiring quote that greets him each time he opens his book.
Picture your father, comfortably settled in his favorite armchair, lost in the pages of his latest read. As he reaches for his bookmark, his eyes catch the carefully chosen inspiring quote. In that moment, a profound sense of your love and appreciation fills his heart, evoking a warm glow of pride and joy.
Crafted with durability in mind, this laminated bookmark is designed to withstand the test of time. Its sleek and modern aesthetic effortlessly complements any book your father chooses to immerse himself in. The attached pen proves to be a valuable feature, saving him the hassle of searching for a pen whenever he wishes to jot down a note or capture a fleeting thought.
Furthermore, this versatile gift transcends occasions, making it suitable for any event, not just Father's Day. Whether your father embarks on a journey, navigates through work tasks, or simply keeps it on his bedside table as a constant reminder of your love, this bookmark is an enduring symbol of your affection.
7 MM Black Glass Rosary
Beyond being a Catholic accessory, the 7 MM Black Glass Rosary embodies profound faith and devotion—a tangible symbol of one's spiritual journey. For centuries, the act of praying the rosary has served as a meditative and contemplative practice, fostering a deeper connection with God. Crafted with precision and care this beautiful rosary stands as a remarkable gift, perfect for fathers looking to strengthen their faith.
Meticulously designed, the 7 MM Black Glass Rosary features exquisite black glass beads that exude elegance and spirituality. The pewter crucifix and center add a touch of reverence to this already remarkable rosary. Enclosed within a deluxe gift box, it is not just a gift but a cherished keepsake, deserving of the special moments of prayer and contemplation. The glass beads, measuring 7 MM in diameter, offer a smooth and comfortable touch, enhancing the prayer experience. With each bead, one can immerse oneself in the profound mysteries of the rosary, finding solace and spiritual nourishment.
The black glass beads and pewter accents blend harmoniously, creating a visually captivating design that evokes a sense of awe and reverence. This rosary is more than an accessory—it is a work of art that can be proudly displayed or carried as a personal expression of faith.
To ensure its safekeeping and preservation, the 7 MM Black Glass Rosary comes nestled within a deluxe gift box. This thoughtful inclusion not only adds to its appeal as a gift but also emphasizes the significance and reverence attached to the rosary.
Brown Wood Oval Rosary
The Brown Wood Oval Rosary stands as a beautiful and significant gift for fathers looking to strengthen their faith.
This rosary is meticulously fashioned from high-quality wood, ensuring not only its durability but also imparting a natural and rustic allure. The smooth, oval beads offer a comforting touch, easing a serene prayer experience. Additionally, the rosary proudly displays an exquisitely detailed crucifix, etching into memory the profound sacrifice of Jesus for humanity.
However, the Brown Wood Oval Rosary transcends its spiritual significance—it is an awe-inspiring piece of visual artistry. The warm brown tones of the wood harmoniously complement the silver accents of the crucifix and centerpiece, resulting in an elegant and captivating design. Whether displayed with pride in one's home or worn as a personal accessory, this rosary captivates the eye.
To ensure its safekeeping, the Brown Wood Oval Rosary comes in a deluxe gift box —a testament to the attention given to every detail. This box not only safeguards the rosary from potential damage but also enhances its value as a cherished gift. Its soft and luxurious texture serves as the perfect abode for the rosary when not in use.
4 Way Medal
If your father is a devout Catholic, the 4 Way Medal from Prospect Hill Co. is the ideal gift for him. This unique and versatile medal combines four different Catholic medals into one, standing for various aspects of faith and devotion.
The sterling silver 4 Way Medal is 11/4" in diameter and includes a 24" Rhodium Chain and comes in a Deluxe Gift Box. It becomes a constant companion, going with him wherever he goes. This cherished gift will undoubtedly remind your father of the enduring power of faith every time he gazes upon it.
Choose the 4 Way Medal to honor your father's deep devotion and provide him with a precious symbol of faith, reflecting the love, protection, and inspiration of Jesus, St. Christopher, St. Joseph, and the Blessed Virgin Mary.
Gold Crucifix
An elegant and exquisite gift that your father will treasure for a lifetime, the Gold Crucifix is a remarkable way to express your love and appreciation. Crafted with the utmost care, this stunning piece is made of high-quality gold material, ensuring its durability and longevity. Beyond being a symbol of unwavering faith and devotion, the Gold Crucifix is a timeless jewelry piece that can be passed down through generations. Your father can choose to wear it as a pendant, holding it close to his heart, or display it as a magnificent and meaningful decoration adorning his wall.
Presenting your father with a Gold Crucifix not only bestows upon him a beautiful and meaningful gift but also honors him with a piece of history and tradition. The Gold Crucifix has served as a symbol of faith and devotion for countless centuries, and its significance will endure for generations to come.
So, if you look to gift your father with something that will be cherished eternally, consider the Gold Crucifix from Prospect Hill Co. Its timeless elegance and unmatched craftsmanship will bring immense joy and comfort to your father's heart throughout the years.
10″ Cherry Wood Crucifix with Silver Corpus
The 10-inch Cherry Wood Crucifix is a captivating and time-honored gift, ideal for adorning your father's home with its inherent beauty. Meticulously crafted from high-quality cherry wood, this exquisite crucifix features a remarkable silver corpus, adding a touch of splendor to its overall design. Its intricate details and elegant aesthetics make it a flawless addition to any Catholic household.
Made with utmost precision and care, the Cherry Wood Crucifix exemplifies the fine craftsmanship that distinguishes it as a remarkable piece. The rich and lustrous cherry wood, combined with the sterling silver corpus, creates a visually striking contrast that enhances its visual appeal. It serves as a poignant reminder of faith and devotion, reflecting the profound significance of the crucifixion.
More than just a decorative item, this crucifix holds deep meaning within the Catholic tradition. Its presence in your father's home not only adds a touch of timeless elegance but also serves as a focal point for prayer and reflection. Each time your father glances upon it, he will be reminded of the enduring love and sacrifice of Jesus Christ.
St. Joseph Statue
As the patron saint of fathers and families, St. Joseph holds a special place in the hearts of Catholic fathers, making this statue an ideal gift. Crafted with care from high-quality materials, it boasts a beautifully detailed design that captures the essence of St. Joseph's virtues and significance. This statue serves as a poignant reminder of the profound role that faith and family play in your father's life.
The St. Joseph statue can find its place on your father's desk or nightstand, serving as a constant source of inspiration and devotion. Its presence will not only enhance the aesthetics of the space but also symbolize the values and ideals your father upholds. Each time he looks upon the statue, he will be reminded of the profound impact he has as a father and the importance of his faith in guiding his family.
Choose the St. Joseph statue as a gift for your Catholic father, and you will bestow upon him a tangible representation of his faith and his invaluable role as a father. Its high-quality construction, intricate design, and symbolic significance make it a perfect addition to his desk or nightstand, symbolizing the bond between his faith and his family.
Family Edition Bible
A Bible holds a profound significance as a gift, and it is particularly meaningful for your father. The Family Edition Bible is an exceptional choice for any Catholic family looking to nurture their faith collectively. With its large print, it ensures comfortable reading for all, while the inclusion of study notes helps a deeper understanding of the scriptures. This Bible enables your father to embark on a personal spiritual journey or engage in shared exploration with the family, giving it a gift that everyone can treasure.
The Family Edition Bible is thoughtfully designed to accommodate both individual and communal study. Its user-friendly features foster an enriching and inclusive experience for readers of all ages. The large print enhances readability, reducing eye strain and ensuring effortless engagement with the sacred text. The study notes going with the passages offer valuable insights and explanations, guiding your father in his quest for spiritual growth and understanding.
This Bible transcends the realm of personal devotion, as it invites your father to foster a sense of togetherness and unity within the family. By reading and discussing its passages as a family, he can cultivate a shared understanding of faith and deepen familial bonds through meaningful conversations. The Family Edition Bible serves as a catalyst for conversations about spirituality, values, and the teachings of Catholicism, nurturing a strong foundation of faith within your family.
A Prayer for Fathers with "Happy Father's Day" Pen attached
Last but certainly not least, the A Prayer for Fathers with "Happy Father's Day" Pen attached is a heartfelt and thoughtful gift, allowing you to express your deep appreciation for your dad. This meaningful token includes a cross-shaped card featuring an inspirational Father's Day Prayer printed in full color on both sides. With a gray pen attached to the card, your father can easily read and reflect on his faith, creating a cherished moment of connection.
This gift serves as a perfect representation of your love, gratitude, and admiration for your father. The cross-shaped card, measuring 5″ x 7″, holds a special significance, symbolizing faith and the enduring bond between father and child. The Father's Day Prayer, beautifully displayed in vibrant colors, conveys heartfelt sentiments and serves as a constant reminder of the important role your dad plays in your life.
The accompanying gray pen, imprinted with the words "Happy Father's Day," adds a touch of joy and celebration to this thoughtful gift. With the pen in hand, your father can delve into the heartfelt prayer, capturing his thoughts and reflections as he embraces his faith and the love that surrounds him.
Embrace the Power of Faith: Catholic Father's Day Gifts that Strengthen the Spirit
When it comes to celebrating Father's Day with a Catholic touch, there are numerous thoughtful and meaningful options available. From Catholic Father's Day prayers to gifts specifically designed for Catholic dads, such as the Visor Clip motorist prayer, the Father's Day Laminated Bookmark with Pen attached, the Brown Wood Oval Rosary, the 4 Way Medal, the Gold Crucifix, the St. Joseph Statue, the Family Edition Bible, and the prayer for fathers with an attached pen, there is a wide array of choices that align with your father's faith and demonstrate your love and appreciation.
These gifts not only serve as tangible tokens but also carry spiritual significance, allowing your father to connect with his faith and find solace, inspiration, and guidance in his everyday life. They are crafted with high-quality materials, intricate details, and elegant designs, reflecting the devotion and craftsmanship of Prospect Hill Co.
Father's Day is not just about the gift itself; it is an opportunity to express gratitude and admiration for the sacrifices and love fathers provide to their families. By presenting these exceptional Catholic Father's Day gifts, you can convey your appreciation for your father's role as a faithful guide, protector, and provider. These gifts symbolize the importance of faith, family, and devotion in your father's life, serving as constant reminders of the values he upholds and the love he shares.
So, as you search for the perfect gift to honor your father on this special day, consider these 10 best Catholic Father's Day gifts. Choose a gift that resonates with his faith, strengthens his connection to God, and serves as a testament to your love and gratitude. Remember, Father's Day is a time to celebrate and cherish the unique bond you share with your dad, and these gifts supply an opportunity to do so in a way that is deeply meaningful and heartfelt.