URGENT
Disinfect Your Church / Office / Business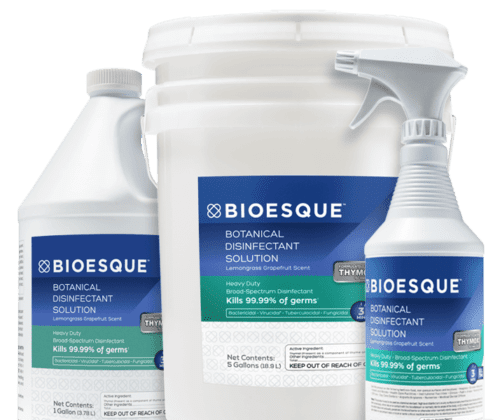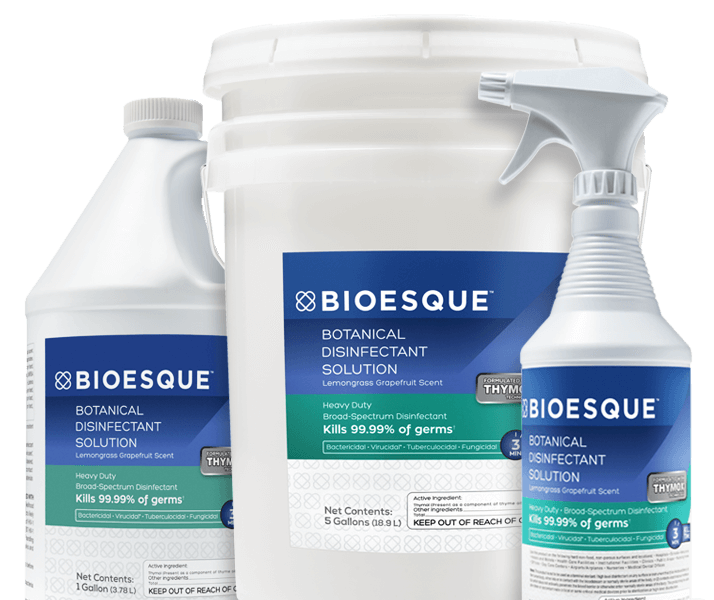 Botanical Disinfectant Solution
1 and 5 Gallon Available Now – 1 Quart not available until June 5th!
Capable of cleaning, sanitizing, disinfecting and deodorizing in a single step, Bioesque's Botanical Disinfectant Solution is the natural solution for a wide range of cleaning challenges. This innovative product: Features the patented Thymox technology and a botanically derived active ingredient.
Available in multiple sizes, it is perfect for use on an impressive array of surfaces and requires no special precautions or equipment to use. After spraying, simply allow the product to sit on the surface for the appropriate period of time before wiping it down, if desired. This versatile germicide product is suitable for health care, church, school, residential, commercial and industrial settings.
With a formula that is free of bleach and other harsh chemicals, Bioesque's Botanical Disinfectant Solution is a great choice for hazard-conscious or environmentally sensitive settings. Powered by Thymox technology, it
utilizes Thymol, a cutting-edge antimicrobial agent derived from natural thyme oil, to quickly power through grime and destroys germs that it encounters. How efficiently does this professional-grade product work?
This disinfectant:
• Is a one-step cleaner with bactericidal, virucidal, tuberculocidal and fungicidal claims.
• Is a broad-spectrum disinfectant registered with the Environmental Protection Agency.
• Cleans, disinfects, and deodorizes a wide array of surfaces.
• Eliminates malodors and features a fresh lemongrass-grapefruit scent.
• Is nonabrasive, environmentally friendly and ideal for everyday use.
• Contains no chlorine, phosphates or harsh chemicals.
• Does not require the use of personal protective equipment
• Kills 99.99 percent of viruses in one minute.
• Kills 99.99 percent of bacteria in two minutes.
• Kills 99.99 percent of fungi and molds in three minutes.
• Kills Mycobacterium tuberculosis in three minutes.
CALL TO ORDER: 1-800-586-1951